Meager Accolades and Press
August 2016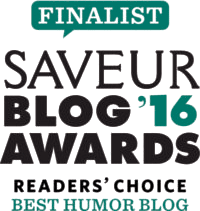 Despite not excelling in "humor" or "blogging" since Obama's first term, I was nominated for "Best Humor Blog" in 2016's Saveur Blog Awards because my readers and Saveur are far too kind.
December 2013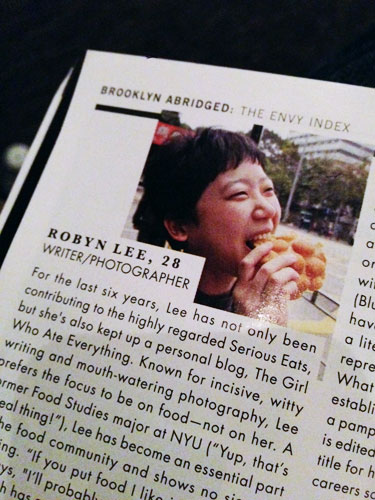 When I was 28 years old, L Magazine put me on their list of "30 Under 30: The Young Brooklynites We Envy Most".
As soon as I crossed the 30-year-old threshold and moved out of Brooklyn, all my self-worth drained out of me like a watermelon keg whose tap was accidentally left on, but no one could turn it off because everyone had already left the party. The party-goers were never seen again. The watermelon turned into a pulpy mass of rot. In conclusion, being a watermelon keg is difficult.
May 2011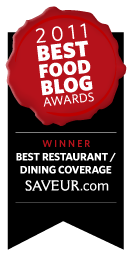 In 2011 I won the Saveur Best Food Blog Award for "Best Restaurant/Dining Coverage", which blew my mind because I told people not to vote for me. Of course, I'm incredibly grateful that people read my post, thought, "NUH-UH," and voted for me anyway. Whether I won or not, it was an honor to get recognized by Saveur.
October 2009
It's better if you can't see me. :) Photograph by Melody Kramer.
During the 215 Festival in Philadelphia I appeared on the food blogging panel along with Fries With That Shake, Foodaphilia, Meal Ticket, Mac & Cheese, Phoodie, and Unbreaded. I was probably awkward. But if you weren't there, you don't have to know that. Weeeee!
November 2008
For some reason Australian magazine Home Beautiful liked me enough to mention me in their November issue. And I'm not even Australian! Sweet! Also mentioned are Grab Your Fork (I've met Helen; she's awesome!) and Stone Soup. They're actually from Australia. Haha. The blurb in all its glory:
Believe us, she has [eaten everything]. This New York epicurean has sampled everything from tasty pizzas and Korean cuisine to homemade scones and gelato. Read it before your next trip to the Big Apple.
September 28, 2008
Susan Jung of the South China Morning Post gave me a nice write-up about how my blog has matured over the years. Hehe. Mature...
Well, I trust Susan's judgement. MATURE, I HAZ! Here's the full write-up:
Part of the fun of following food blogs over a period of time is watching how the blogger matures - or doesn't, as the case may be. We first started following Robyn - also known as The Girl Who Ate Everything, named after the Jeffrey Steingarten book The Man Who Ate Everything - when she was majoring in food studies at New York University (NYU). She was like the pesky but lovable kid sister we never had, full of teen angst and doubts.

She's since graduated from NYU, started working at the online food-zine, Serious Eats, recently celebrated her 23rd birthday and is still pesky (but slightly less so) and lovable. Her sometimes stream-of-consciousness ramblings - complete with some made-up words (but very little txt spk, thank goodness) - are funny and entertaining, covering France (where she spent a semester during university), other places in Europe, her travels in the United States, and restaurants in New York, where she's living.

Robyn's tastes in food are still developing - she eats an unhealthy amount of sweets and pastries (even this dessert-obsessed writer thinks so) and doesn't like any type of alcohol (how did she get through university completely sober?) but to honour her blog, is willing to try (almost) anything.
February 2008
The Sacramento Bee mentioned me on their February 19th "To-Do List"! I'm quite flattered because, as you can see, I don't even talk about Sacramento. Or bees. Here's the blurb:
SURF

Appetite for deconstruction: Robin is a New York-based food studies major who likes to eat. Really likes to eat. And blog about it, too, over at The Girl Who Ate Everything (www.roboppy.net/food/).

From run-ins with gelato and lamb chops to close encounters of the pancake kind, Robin details her meals and snacks with humorous, thoughtful insight.

But does she really eat everything? "Sometimes yes, sometimes no," she writes. "I have a problem with willpower; if you put food I like in front of me, I'll probably eat it despite whether my stomach has any more room."

Oh, is that a problem? Here that's known as "dinner."
I have no physical evidence of blurb, but supposedly this story ran in the the SCENE section, page E3. Meaning that there may be many copies of flattened dead tree pulp with my URL on it. Which is all I've ever wanted to achieve in life. If I had a copy of this newspaper clipping I would proudly stick it in my "press" folder, which is currently mostly full of air.
Thanks, Rachel Leibrock, for the mention! I'll overlook that you spelled my name wrong. (Except for having just mentioned it in my previous sentence.)
January 2008
I can haz a gradient
I tied for first place with 101 Cookbooks for Best Food/Health Blog of 2007 from Performancing.com. Obviously not for the "health" bit. As flattering as it is, I have no idea how this happened. Computer error? Misalignment of the planets? So many possibilities...
May 2007
I wrote an article about Paris (two-page spread) for the May 2007 issue of Malaysia-based Oxygen Magazine. I didn't come up with the title. Also, two of the photos were taken by Diana (the top two in the right-most column). But...um. It's mostly me. WOOT.
October 16, 2006
I got a lil' feature in my school's newspaper, Washington Square News: "Blogger provides witty food tips." Do I, readers? Do I?
It's a nice little piece about my blog, although it makes me sound cooler than I really am. Must...lower...people's expectations. Many thanks to Michelle Chu for deeming me interesting enough to write about, and my friends who gave nice quotes.
August 2006
My website was mentioned in the Singaporean August 2006 issue of Cleo magazine under a little piece featuring three different food blogs. WTF, right? ...I mean, what the fuckin'-AWESOME. Here's the article:
1. Funny: The Girl Who Ate Everything

Written by a Food Studies major at NYU, this blog is downright hilarious. An excerpt: Some parents worry that their kids are partying, drinking, or dealing crack. my parents probably worry that I eat too much. And here I am, eating too much. I'm not too proud of it, but at least I'm happy...an emotion that will change when I explode and die." No one rambles quite like Robyn about "fooding", "innards" and "being over-sandwiched". You'll be addicted!
I'm aghast with happiness that anyone would feature this blog as a top example of comedic value in the food world. It's kind of cool.