August 31, 2016
When I was around seven years old, I unknowingly experienced one of the most important milestones of my life. That's right: I used a soft serve machine by myself for the first time. This happened at Bon Buffet, a mid-priced, all-you-can-eat buffet restaurant in Maywood, New Jersey. Like many buffets in suburban New Jersey, Bon Buffet specialized in all foods, but mostly the Chinese-American ones. It's a tale as old as time—a revelation revealed at a Chinese buffet in suburban New Jersey during the early '90s—but for some reason hardly anyone ever tells it. Well. I'm ready to tell it. Are you ready to lis—
[Tumbleweed rolls by, aggressively.]
When I was a kid, going to Bon Buffet meant gleefully eating every color of the fried-food-and-meat-nugget rainbow and washing it all down with Sprite from a translucent red plastic bucket that doubled as a cup. Because I had yet to understand the concepts of good nutrition or my own mortality, Bon Buffet was, naturally, one of my favorite restaurants. But the best part wasn't their rich palette of brown foods and gallons of potable sugar. It was the DIY soft serve sundae bar. Aka...
THE FONT OF ABSOLUTE POWER [echo] POWER POWER POWER [/echo]
Do you know what it feels like to pull the lever of a soft serve machine for the first time? To summon its bowels into action and hear them hum and churn with happiness-extruding potential? In the mind of my sheltered, prepubescent self, being the master of my own soft serve fate felt like the greatest power in existence. I had eaten soft serve before, but I had never controlled it. When I pulled that lever I wanted to yell I AM THE GOD OF SOFT SERVE, but I restrained myself because I craved the public's perception of me as a sane member of society. (And I still do, sort of.) And so, as the machine dropped a deuce into my metal dessert bowl, I kept my calm and showed no visible evidence of the emotions stirring within me. Which was good, because it would have potentially looked like this:
This moment of soft serve-derived happiness should've cemented itself into my soul for eternity, but over time I kind of...forgot about it. During my high school years I sought out a healthful diet (wuuut), and during my college years I sought the desire to return to eating a healthful diet (I failed). After college I became much more comfortable with applying the mantra of "we're all gonna die, so whatever" to my food choices.
And then in 2015, at the decrepit age of 29, I moved to Taipei. And I started to remember...
» Continue reading "I ate too much soft serve in Taiwan, and you can too!"...
Posted by roboppy at 12:31 AM |
August 9, 2016
UPDATE (9/30/2016): Congratulations to The Pizzle for winning the Editors' Choice Award for Best Humor Blog, and You're Still Fat for winning the Readers' Choice Award! END UPDATE
WHAT HAVE YOU DONE.
YOU NOMINATED ME FOR A SAVEUR BLOG AWARD. AND THEY TOOK YOU SERIOUSLY.
IS THIS A FORM OF PSYCHOLOGICAL PUNISHMENT, NOMINATING ME FOR AN AWARD I DON'T DESERVE? ARE YOU TRYING TO GUILT ME INTO WRITING MORE THAN ONCE EVERY THREE MONTHS? DON'T YOU KNOW I HAVE POKÉMON TO CATCH? Actually, I just wanna evolve a Magikarp.
Seriously though, thank you for nominating me! For all the loyalty and thoughtfulness you've given me over the last year, all I've rewarded you with is a low quantity of low quality posts. You deserve better. :( But until I figure out "better", please accept Mr. Ice Cream Cone as a token of my appreciation, for he is the embodiment of my deepest, most complex emotions: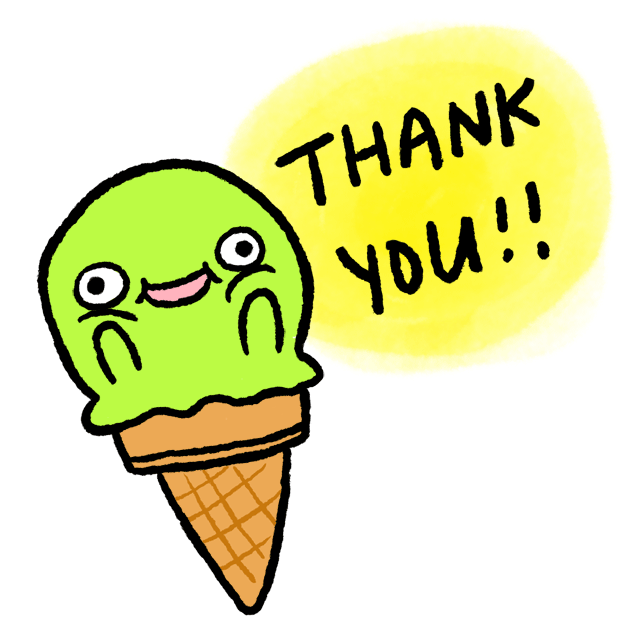 Head here to check out all the nominees in this year's Saveur Blog Awards. In particular, these are the fellow nominees in the "Best Humor Blog" category:
I know from my experience of being nominated for a Saveur Blog Award in 2011 that telling you to not vote for me doesn't work, but how about if I ask you to vote for one other blog in particular? You can vote for me if you really want to, but you should also vote for...
Why The Pizzle? Because I love Dennis Lee, the blogger behind The Pizzle. I first got to know him over five years ago when he started writing for Serious Eats. He's been one of my favorite food writers, humorous or otherwise, ever since. What makes him so special? No one else is as dedicated to their craft as Dennis is, his most well-known craft being "eating really dumb shit and writing about it for the Internet's enjoyment even though we're obviously assholes for reveling in his intestinal distress." (His other crafts include eating normal food and writing about it.) I mean, I love my readers, but I'm not going to eat glue sticks for you. Dennis deserves the award. Also, the longevity of his lifespan is uncertain, so the sooner the better.
It would make me happy to see Dennis win and add this award to his list of accolades, even if he doesn't care. And if after visiting his blog you still don't feel like voting for him, that's ok—I'm pretty sure he'll win anyway.
Besides The Pizzle, I'm also voting for Eating Asia (Eat the World Award), @breadfaceblog (Best Food Instagram), and Lady & Pups (Best How-To Food Blog).
You can vote at Saveur.com once a day until August 31.
Posted by roboppy at 6:22 PM |
May 29, 2016
I have a habit of alternating periods of eating food with periods of not eating food. During the fallow periods, I tend to think stuff like this:
I'm hungry for fried chicken bits, or fried dumplings, or bian dang, or sheng jiang bao, or scallion pancakes, or dou hua, or gua bao, or lu rou fan, or one of many other cheap foods easily found in Taiwan.
When I lived in Taipei, the situation played out like so:
[Roams around the neighborhood for a few minutes until desired food is found. Exchanges a pittance for food. Devours food because it is delicious. Takes convenience for granted. Sticks a little gold star next to "Feed Self" on my mental to-do list.]
Now that I live in Bergen, it goes a bit differently:
[Looks up recipes online. Whittles the recipes down to those that look feasible considering my low aptitude for cooking. Picks a scallion pancake recipe that looks promising and, more importantly, unambitious. Watches YouTube videos with tips and techniques on how to make scallion pancakes. Gains false confidence that five minutes of watching YouTube videos has magically imbued me with the skills of a decades-old street vendor. A few hours and eight scallion pancakes later, feels bloated with subpar scallion pancakes and disappointment. Gold stars shrivel up and die.]
In conclusion, trying is for suckers and there is no such thing as magic.
Thankfully, I bought this deck of Taiwanese food-themed playing cards from Miin Gift to get me through such trying times. The cards feature 52 photos of some of Taiwan's most famous xiǎo chī (小吃), snack-sized dishes including noodles, dumplings, soups, desserts, and more. Many of these dishes originally come from China, while some are distinctly Taiwanese and combine a variety of influences. If you don't know anything about Taiwanese food, the deck is a nice intro to some of Taiwan's most popular foods with the added bonus of being a deck of cards (or it's a deck of cards that happens to be covered in photos of food—either way, it's awesome). If you're already familiar with Taiwanese food, you might feel compelled to do what I do and flip through the deck when you're feeling nostalgic or hungry. Suddenly the warm memories of Taipei come flooding back, like eating tiers of soup dumplings with my friends at Golden Chicken Garden. Or chugging a tall cup of iced milk tea on a broiling summer day to replenish my continuously sweat-weeping body. Or passing through a stagnant fart-cloud of stinky tofu while walking through a night market. Cherished memories, every one.
» Continue reading "This Taiwanese food-themed deck of playing cards is my favorite souvenir from Taiwan (plus here's a map and list of the foods in the deck)"...
Posted by roboppy at 2:04 AM |
April 18, 2016
A few of my friends are either currently on vacation in Taipei or planning on visiting Taipei soon. I'm have no such plans. But that's ok. Yeeeaah. [Curls up into fetal position on floor surrounded by an ever-expanding puddle of my own tears.]
Anyway, it got me thinking about what I'd want to do and where I'd want to bring my friends if I went back to Taipei for a week-ish-long vacation. The result is this list of 50-something places I'd want to go to eat, shop, and do other fun stuff. This isn't a list of "the best" places, nor stuff I would necessarily recommend to first-time tourists to Taipei. (I only mention a handful of museums and sites of historical significance because I've already visited most of the places I'm interested in.) My favorite places are mostly influenced by proximity to my former apartment in Da'an, nostalgia, reasonable prices, and the presence of cuteness. But maybe you and I share some of the same interests. I hope so, or else this post will have all been for nothing, and that aforementioned ever-expanding puddle of tears will turn into an ever-expanding flood.
For other resources about what to do in Taipei, check out A Hungry Girl's Guide to Taipei, The Thousandth Girl, Taiwan Explorer, and Guide to Taipei.com. There's also TripAdvisor's Taipei hub and a bajillion other sites with more recommendations and photos than I could ever give you. If you're planning to visit Taipei for the first time, also check out my post of random travel/living tips.
In my descriptions, I link each place's name to its corresponding tag on my Flickr page in case you want to browse my photos. If I have a photo of a place's menu, I'll link to it, but keep in mind it might not be up to date. I put most of these place on my accompanying map, aside from chains that have a bunch of locations. Some addresses below are written in Chinese because that's what Google gave me and I was too lazy to translate them.
» Continue reading "Over 50 places I'd want to eat, shop, and visit while on vacation in Taipei"...
Posted by roboppy at 2:47 AM |
March 26, 2016
UPDATE (5/12/16): A reminder about Shida Night Market and all night markets in general: YOU SHOULD VISIT NIGHT MARKETS AT NIGHT. Most night market businesses don't open until the late afternoon to night. Some are open for lunch. Very few places do business in the morning. To the best of my ability, I've included the opening hours of the businesses below so you're not met with a closed food stand or restaurant.
UPDATE (4/12/16): A few places have moved or left the night market since I was in Taiwan:
Moved: Ho Ho Mei, Hsu Ji Shen Jian Bao
Left: Yu Ban Bu Neng Salty Water Chicken
Closed: Niu Lao Da on Lane 105, Shida Rd
The map has been updated with the new locations.
END UPDATE
My retirement dream is to live by a Taiwanese night market where I can squeeze out my terminal breaths eating at cheap food stands and restaurants every day. (Quick message for my unborn children: If that dream doesn't pan out, my other retirement dream is to live near you, assuming you're cool and you like me yeah that'd be dope.) I know this is a solid retirement plan because I've already lived it, minus the part where I'm squeezing out my terminal breaths.
For ten months between 2014 and 2015, I lived down the street from Shida Night Market, or Shīdà yèshì (師大夜市). It was awesome, even if it's not particularly famous for food. Where other night markets are lined with food carts, the main drag of Shida Night Market, Longquan Street, is full of trendy clothing and accessories stores. (I've read that years ago the night market was considerably larger and had more food stands, but new rezoning laws pushed out many of the former food businesses.) If you're a tourist aiming to check off all the Taiwanese street food staples, you're better off checking out Shilin, Raohe, Tonghua, or Ningxia, among other night markets I have yet to try. Check out other recommendations here, here, and here. Shida Night Market may not be impressive compared to more famous night markets, but it has plenty of restaurants and food stalls scattered in between the non-food shops, as well as a few "blocks" dedicated to food stands. If you go to school or live near Shida, the night market is a great place to grab lunch or dinner on a regular basis.
Here are some of my favorite places to eat in Shida Night Market. Have other favorites? Leave your recommendations in the comments!
» Continue reading "My 12 favorite places to eat in Shida Night Market (plus 12 honorable mentions)"...
Posted by roboppy at 5:57 PM |