March 31, 2017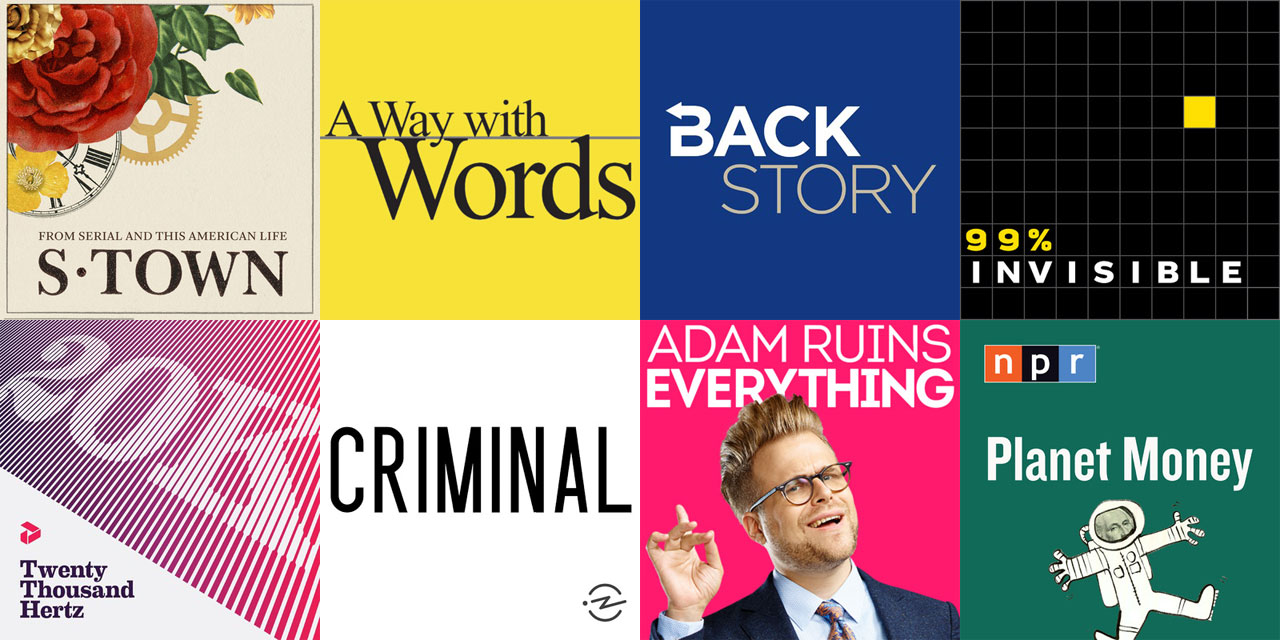 Throughout March, many of the podcasts I listen to promoted Trypod, a podcast awareness campaign encouraging listeners to recommend podcasts to friends and family who may not be familiar with podcasts. I figured I would take this opportunity to talk about some of my favorite podcasts and simultaneously expose what a jobless bum like me does with the many hours of free time that come with being an unproductive member of society.
Besides the hours I spend going to Norwegian class, watching TV shows, staring at my dream dog, rewriting blog posts that never come to fruition, and playing Super Mario Run, I spend most of my waking hours in my kitchen mangling ingredients and attempting to make them edible. Sometimes I call it "cooking." I also call it my podcast-listening time. And because I prep food at the pace of a one-armed sloth whose arm has fallen asleep, I have a loooot of podcast-listening time.
If you're looking for a good podcast player, I recommend Pocket Casts. I've been using the $9 web version of the player since last fall to manage my 60-something podcast subscriptions (many of which I have yet to listen to but plan to get to before I die, assuming I'm not going to die soon). I only listen to podcasts on my computer, but if I listened to podcasts on my phone, I'd buy the mobile app as well.
Here's a list of 16 podcasts I've particularly enjoyed in March (and have had new episodes in March), plus some info about each podcast. If you have other recommendations, please let me know in the comments!
» Continue reading "Looking for podcast recommendations? Here are 16 of my favorites from this month"...
Posted by roboppy at 11:55 PM |
February 27, 2017
I'm getting tired of Taipei. Where can I go for a fun day-trip out of the city?
[Whips head up from desk, blinks a few times with the finesse of someone who has just learned what eyelids do, smears a dribble of drool—a drooble—off of bottom left corner of mouth.]
You've come to the right place! As you can see [blindly slaps palms around desk looking for glasses], I am a totally professional human who is equipped to help you!
[Finds glasses, smushes them onto face. Scoots closer to computer, which in turn gets me closer to you, Imaginary Person That I Made Up So I Can Pretend I'm Not Just Talking To Myself.]
Do you love cats? Spend a day in Houtong, a village full of cats! Do you love Spirited Away? Head to Jiufen, the mountain village that looks like it influenced the movie, so who cares if Miyazaki says it didn't! Do you love rock formations that vaguely resemble the eroding heads of 16th-century British monarchs? Yehliu's got your weirdly specific interest covered! (At least until the next big earthquake or typhoon.)
Eh, thanks for the suggestions, but I'm not really into any of those things.
[Scoots back.]
You made me sad.
Hey, I like stuff! I like...
...[waits, unblinkingly]...
Well, why didn't you say that first? Just head to Pingxi! It's got sky fires galore!
Pingxi, a rural district nestled among the mountains just an hour east of Taipei, attracts locals and tourists all year round who want to release flame-powered lanterns bearing their personalized wishes into the sky. Why Pingxi? According to the internet, Pingxi is uniquely situated to sort of safely handle floating fireballs enclosed in wire- or bamboo-framed paper cages due to its location in a rainy mountainous area with steady wind patterns. If you want to set off a sky lantern, Pingxi appears to be the only legal place in Taiwan you can do it.
» Continue reading "The Pingxi Sky Lantern Festival, celebrating Chinese New Year in the valley of the BURNING SKYYYY"...
Posted by roboppy at 2:05 AM |
November 30, 2016
Ingredients in a pineapple cake from Shou Tian Pin. Click to enlarge!
Everything I know about the dangers of bringing foreign produce back into the US I've learned from EVA Air's in-flight landing video from the early '90s. I don't remember much about it because when I was seven years old I didn't have the foresight to take notes about something I might blog about over two decades later. But, hell, who needs "research"? I'll just attempt to piece together my questionably accurate memories for your "benefit."
I'm 100 percent sure the video was animated. I'm less sure about the other parts. At some point in the video, an airplane lands at an airport. (Yeah, Robyn, you got dis.) Then at some point after that, the passengers go through customs and immigration. Then some nefarious but otherwise normal-looking passenger (...it could be you) knowingly sneaks their fruit past customs. Then the video shows what happens if you don't declare your fruits and vegetables and other contraband perishables, which is this: One stowaway insect on that seemingly innocent piece of fruit multiplies into a tsunami of insects whose only purpose in life is to ravage whatever continuous landmass dares to lie in its way, a purpose it fulfills in a matter of seconds thanks to the collective power of a bajillion weaponized appetites. Congratulations, you destroyed America (and probably the rest of North America down through South America). And it only cost you one wax apple.
I was bummed out when I discovered that EVA Air doesn't show this video anymore, nor any other video that traumatizes children through the apocalyptic potential of undeclared produce. But I still think of it in regards to bringing foreign foods back to the US. That's partially why I didn't shove a Taiwanese pineapple (officially considered the best kind of pineapple on Earth, in my biased opinion) into my luggage, as much as I wish I could have. Also, I didn't want to find out what undeclared-produce prison is like.
All the luggage I brought back to the US after my ten-month stay in Taiwan: two check-in luggages, laptop bag, camera bag, and pineapple cake bag containing 30 pineapple cakes.
Instead, I brought home 30 pineapple cakes from my favorite pineapple cake shop, which is sort of like bringing home a pineapple that has been dismembered and cooked into a mash and then inserted into a new skin that's made of butter and flour and then formed into single-serving bricks. So, you know, same thing.
Without any scientific evidence to back me up, I'd say that pineapple cakes, or 鳳梨酥 (fènglí sū), are Taiwan's most famous pastry as well as Taiwan's most popular souvenir, edible or otherwise. These small single-serving "cakes" usually come in the form of square or rectangular bricks whose crumbly shortbread crusts are filled with thick pineapple-flavored paste. (Less common but more whimsical shapes include hearts, the island of Taiwan, and cat heads. Fillings may also be complemented with nuts, dried egg yolks, and dried fruit.)
» Continue reading "Shou Tian Pin (手天品), home of my favorite pineapple cakes in Taipei"...
Posted by roboppy at 12:13 AM |
August 31, 2016
When I was around seven years old, I unknowingly experienced one of the most important milestones of my life. That's right: I used a soft serve machine by myself for the first time. This happened at Bon Buffet, a mid-priced, all-you-can-eat buffet restaurant in Maywood, New Jersey. Like many buffets in suburban New Jersey, Bon Buffet specialized in all foods, but mostly the Chinese-American ones. It's a tale as old as time—a revelation revealed at a Chinese buffet in suburban New Jersey during the early '90s—but for some reason hardly anyone ever tells it. Well. I'm ready to tell it. Are you ready to lis—
[Tumbleweed rolls by, aggressively.]
When I was a kid, going to Bon Buffet meant gleefully eating every color of the fried-food-and-meat-nugget rainbow and washing it all down with Sprite from a translucent red plastic bucket that doubled as a cup. Because I had yet to understand the concepts of good nutrition or my own mortality, Bon Buffet was, naturally, one of my favorite restaurants. But the best part wasn't their rich palette of brown foods and gallons of potable sugar. It was the DIY soft serve sundae bar. Aka...
THE FONT OF ABSOLUTE POWER [echo] POWER POWER POWER [/echo]
Do you know what it feels like to pull the lever of a soft serve machine for the first time? To summon its bowels into action and hear them hum and churn with happiness-extruding potential? In the mind of my sheltered, prepubescent self, being the master of my own soft serve fate felt like the greatest power in existence. I had eaten soft serve before, but I had never controlled it. When I pulled that lever I wanted to yell I AM THE GOD OF SOFT SERVE, but I restrained myself because I craved the public's perception of me as a sane member of society. (And I still do, sort of.) And so, as the machine dropped a deuce into my metal dessert bowl, I kept my calm and showed no visible evidence of the emotions stirring within me. Which was good, because it would have potentially looked like this:
This moment of soft serve-derived happiness should've cemented itself into my soul for eternity, but over time I kind of...forgot about it. During my high school years I sought out a healthful diet (wuuut), and during my college years I sought the desire to return to eating a healthful diet (I failed). After college I became much more comfortable with applying the mantra of "we're all gonna die, so whatever" to my food choices.
And then in 2015, at the decrepit age of 29, I moved to Taipei. And I started to remember...
» Continue reading "I ate too much soft serve in Taiwan, and you can too!"...
Posted by roboppy at 12:31 AM |
August 9, 2016
UPDATE (9/30/2016): Congratulations to The Pizzle for winning the Editors' Choice Award for Best Humor Blog, and You're Still Fat for winning the Readers' Choice Award! END UPDATE
WHAT HAVE YOU DONE.
YOU NOMINATED ME FOR A SAVEUR BLOG AWARD. AND THEY TOOK YOU SERIOUSLY.
IS THIS A FORM OF PSYCHOLOGICAL PUNISHMENT, NOMINATING ME FOR AN AWARD I DON'T DESERVE? ARE YOU TRYING TO GUILT ME INTO WRITING MORE THAN ONCE EVERY THREE MONTHS? DON'T YOU KNOW I HAVE POKÉMON TO CATCH? Actually, I just wanna evolve a Magikarp.
Seriously though, thank you for nominating me! For all the loyalty and thoughtfulness you've given me over the last year, all I've rewarded you with is a low quantity of low quality posts. You deserve better. :( But until I figure out "better", please accept Mr. Ice Cream Cone as a token of my appreciation, for he is the embodiment of my deepest, most complex emotions: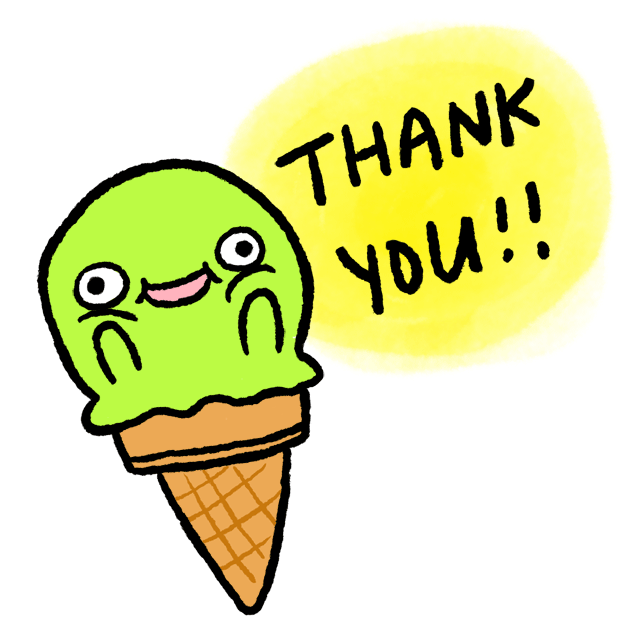 Head here to check out all the nominees in this year's Saveur Blog Awards. In particular, these are the fellow nominees in the "Best Humor Blog" category:
I know from my experience of being nominated for a Saveur Blog Award in 2011 that telling you to not vote for me doesn't work, but how about if I ask you to vote for one other blog in particular? You can vote for me if you really want to, but you should also vote for...
Why The Pizzle? Because I love Dennis Lee, the blogger behind The Pizzle. I first got to know him over five years ago when he started writing for Serious Eats. He's been one of my favorite food writers, humorous or otherwise, ever since. What makes him so special? No one else is as dedicated to their craft as Dennis is, his most well-known craft being "eating really dumb shit and writing about it for the Internet's enjoyment even though we're obviously assholes for reveling in his intestinal distress." (His other crafts include eating normal food and writing about it.) I mean, I love my readers, but I'm not going to eat glue sticks for you. Dennis deserves the award. Also, the longevity of his lifespan is uncertain, so the sooner the better.
It would make me happy to see Dennis win and add this award to his list of accolades, even if he doesn't care. And if after visiting his blog you still don't feel like voting for him, that's ok—I'm pretty sure he'll win anyway.
Besides The Pizzle, I'm also voting for Eating Asia (Eat the World Award), @breadfaceblog (Best Food Instagram), and Lady & Pups (Best How-To Food Blog).
You can vote at Saveur.com once a day until August 31.
Posted by roboppy at 6:22 PM |